Hello Year 1 and Year 2
We hope you have had another great weekend and ready for some more joint learning . This week we have lots of fun activities to complete linked to the story 'The Enormous Turnip'. Here is your learning log for all your activities.  Home Learning Log 29.6.20
Reading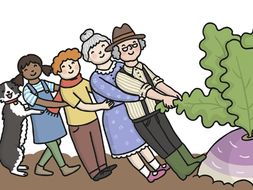 Here is the story of 'The Enormous Turnip'. t-t-7965-the-enormous-turnip-story-powerpoint_ver_4. Once you have read the story, answer these questions in your reading comprehension. The Enormous turnip reading comprehension.
Writing
In writing this week, we would like you to retell the story in your own words. Here are some prompts to help.
The Enormous turnip writing 29.6.20
Maths
We would like you to keep practicing number bonds. This week, we are moving on to number bonds to 20. Watch this video.
Here are your maths sheets for this week. t-n-45417-number-bond-challenge-activity-sheet_ver_8          
Don't forget to send us any pictures of your work you complete.
Miss Loveday, Mrs Mellor and Miss Weigh